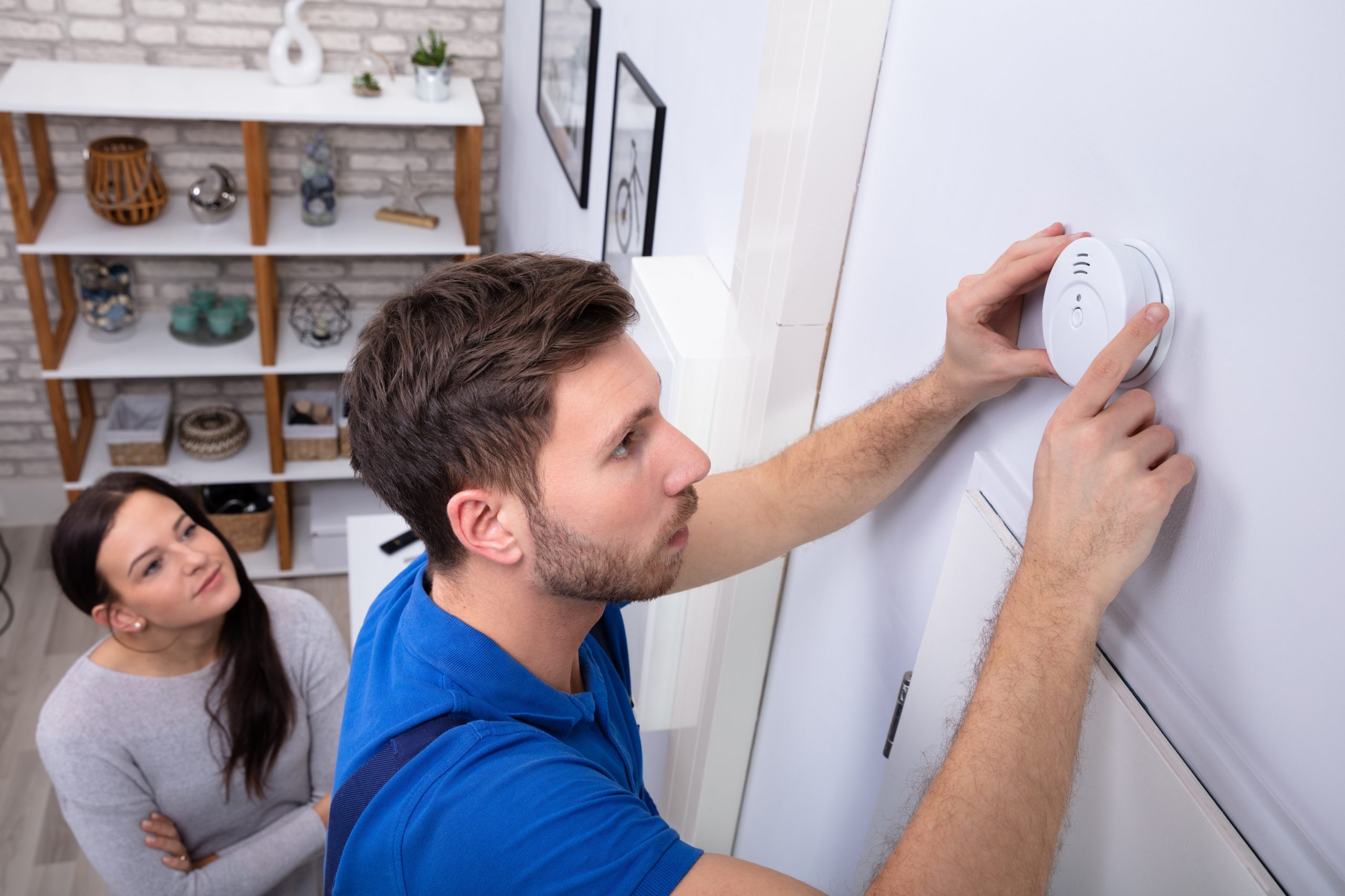 Fire safety is important all year, but it's even more critical as we head into the colder months of the year.
The second week of October is dedicated as Fire Prevention Week in remembrance of the Great Chicago Fire, which makes now the perfect time to discuss fire safety.
While we've learned a lot about fire safety since 1871 — and despite advances in technology and building design — an estimated 353,100 residential fires happen each year.
Early detection remains the best defense for homeowners when it comes to staying safe and preventing injuries or death from smoke, fire, and carbon monoxide.
Let's break down what you can listen for (and actions you can take) to give yourself the edge in fire safety.
SMOKE ALARMS
The most common cause of home fires in the U.S. are related to cooking accidents and happen between 5 and 8 p.m. But half of all fire-related deaths occur between 11 p.m. and 7 a.m., when most people are asleep.
It only takes about 30 seconds for a small fire to grow into something major. When a smoke alarm goes off, you have about 2 minutes to get everyone in your home to safety.
That's why it's vital to have a working smoke alarm in your home to wake you in case of a fire!
A consecutive set of three beeps means that smoke has been detected and you should get to safety immediately. Discuss your home escape plan with your family ahead of time, and run a drill at least once per year.
Smoke alarms should be tested each month to make sure that they're operating properly. If the battery is dying (the alarm will chirp once every 30 to 60 seconds) it should be replaced promptly.
If your smoke alarm continues to chirp after replacing the battery, it means the alarm has reached the end of its life and needs to be replaced. Smoke alarms should be replaced every 10 years. If it's been more than 10 years since your smoke alarms were changed, now is a good time to get this easy project complete.
It's important to have the right amount of smoke alarms in your home, too. You should install a smoke alarm on every floor of your home (including the basement) and in every bedroom. To avoid false alarms, avoid placing a smoke alarm in your kitchen (or place it at least 10 feet from the stove).
For the best possible protection, purchase smoke alarms that are interconnected — meaning when one alarm goes off, they all go off. This way, if a fire starts in the basement, people sleeping on the second floor will be alerted quickly.
CARBON MONOXIDE DETECTORS
Carbon monoxide poisoning happens when too much of the gas builds up in our bodies and leads to illness or death.
It results from the incomplete combustion of fuels — common sources include fireplaces, gas stoves, vehicle exhaust, and generators. The gas is odorless and colorless, which results in it being known as the "silent killer" or the "invisible killer."
Our bodies react to the poisonous gas with flu-like symptoms in low to moderate levels, but because it's odorless and colorless, most people don't realize that carbon monoxide is the culprit. Moreover, deadly concentrations of CO can fill our homes before our bodies exhibit low-level symptoms, which is why it's important to have a CO detector in your home.
When carbon monoxide is detected in your home, the alarm will sound with a consecutive four beeps followed by a pause. That means it's time to leave your home immediately and get to fresh air.
A single beep of the alarm every 30 to 60 seconds indicates a low battery, while five beeps every 30 to 60 seconds indicates the device needs to be replaced.
Like smoke alarms, carbon monoxide detectors should be tested monthly and replaced every 10 years. They should also be placed on every floor of your home and in every bedroom. For additional safety, purchase an interconnected carbon monoxide detector that will trigger all alarms in your home if CO is detected.
Many smoke alarms are dual function carbon monoxide detectors. Combination devices are fine to use in your home provided they've been lab-tested for functionality.
WHAT TO KNOW IF YOU'RE DEAF OR HARD OF HEARING
The shrill, piercing beep of a smoke alarm or carbon monoxide detector going off is enough to bring most people to attention. But what happens when you've lost your hearing?
Special alarms and detectors are available for purchase which emit a strobe light as a warning for those who are unable to hear. These devices are useful if the person is awake, but additional safety measures are needed for when they're asleep.
For individuals with mild to severe hearing loss, alarms that produce a low-frequency sound are available to purchase. Pillow and / or bed shakers are also available as a preventative device. These accessories are activated by the sound of a standard smoke alarm.
If you or your loved one is hard of hearing or suffers from additional ailments or mobility issues, it's important to be fully prepared to escape your home during a fire.
Keep your mobility device, glasses, and cell phone nearby to avoid needing to search for the items in the dark. Install nightlights in hallways to increase visibility, and make sure to keep pathways in your home free of clutter.
WHAT TO DO IF YOU'VE EXPERIENCED A FIRE IN YOUR HOME
If your home recently suffered fire damage, it's important to seek mitigation services immediately.
The professionals at Paul Davis of Northeast Indiana are ready to aid you in the restoration of your home 24 hours a day, 7 days a week. Call us at 260-436-7510 for more information, or to speak with a fire mitigation professional.