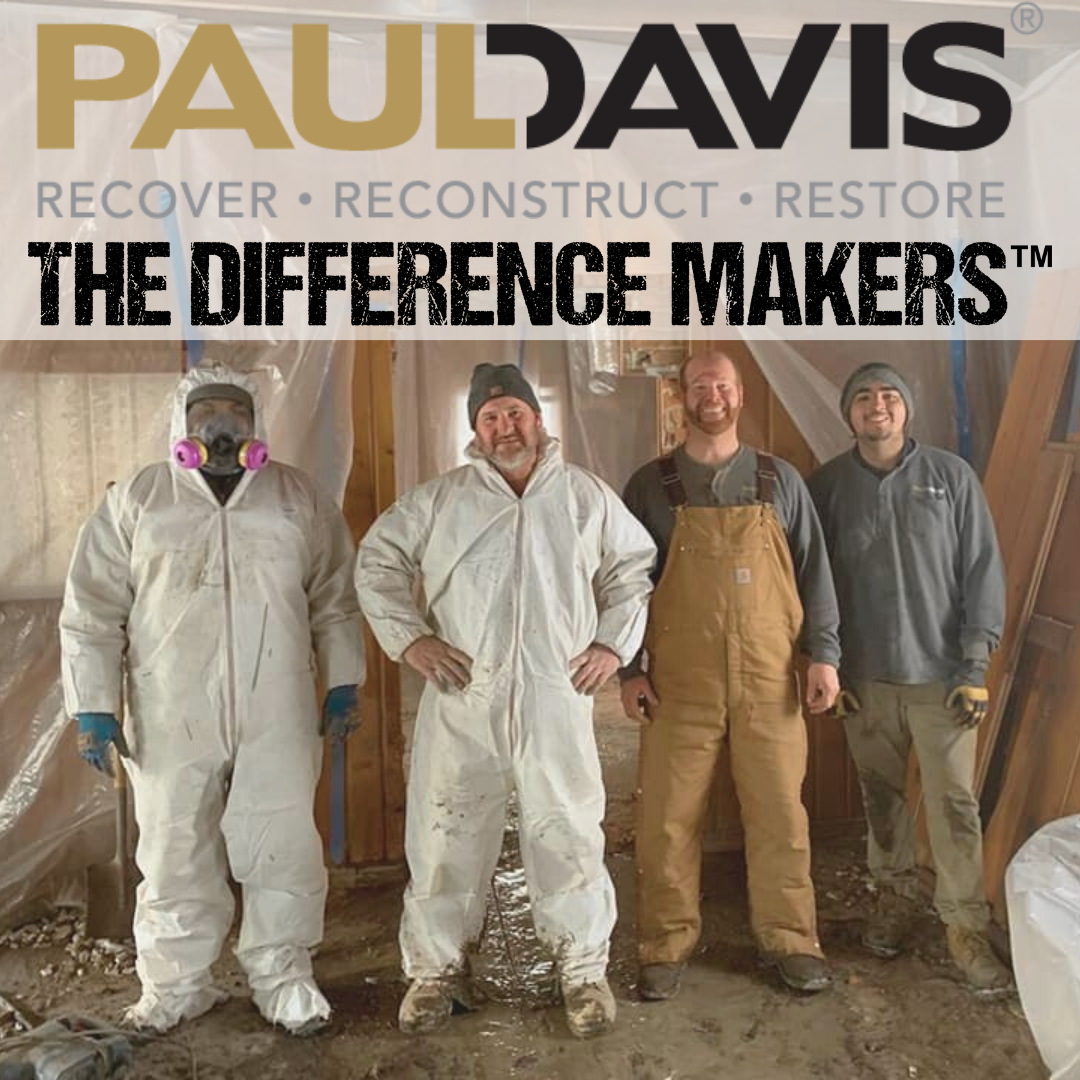 When you think about restoration services, you probably think about wet floors, smoke-stained walls, or even total reconstruction and repair of a home. While that's the work that a restoration expert performs, at Paul Davis Restoration of Northeast Indiana that's only part of the job.
At Paul Davis, our employees are Difference Makers — we make it our priority to provide extraordinary care and concern while serving people in their time of need.
"When I interview new employees, I always tell them that this position can't be just about just having a job and a paycheck," says Shelly Koelper, the general manager of Paul Davis Restoration of Northeast Indiana. "To work at Paul Davis you have to care about people first. We can train people on the how's and why's of restoration, but we can't train people to care."
Extraordinary care at Paul Davis means that our employees practice immediacy. We know that disaster can strike at any time, day or night. When the phone rings at 1 a.m. and the caller says, "It's raining inside my house!", we're there to answer the phone and send immediate help.
It's not just our restoration experts who are Difference Makers, though. It's our office staff, who answer their phones with compassion and a heart to help the caller find answers to their problems.
"There is nothing more frustrating than being passed along when you call somewhere and need an answer," Koelper says. "I have heard Val many times tell a customer: 'I will find out and call you back personally in less than 30 minutes with the answer and who can best help you.' That's what it means to be a Difference Maker."
Oftentimes we find ourselves in a situation where a certain step is needed to move forward, but we need carrier approval to make that next step. That's where our sales team and job managers step in as Difference Makers. While the carriers work for the insured, it can at times be frustrating waiting for a return call. Our team will reach out repeatedly until we are able to connect with someone that can work on the approval for the customer.
We understand that your personal belongings are more than just "things" to you. Being a Difference Maker means that we provide a shoulder to cry on and a compassionate ear to listen when you tell us stories of how the items in your home became family treasures. We'll search through rubble to find a child's prized teddy bear, and we can take that sooty and soaked toy and clean it in our Esporta machine, which can remove contaminants to food-grade sanitization. We can quickly return that child's teddy bear so they can regain some comfort and get a good night's sleep. When you're a Difference Maker it means you're not going to take the quick, easy route — we do everything we can to restore your personal items to their original condition.
Being a Difference Maker isn't a part of any training manual, nor is it a part of any precise instructions we give to our employees. Instead, it's a natural part of our employees being — a genuine desire to help others with compassion and to help people heal during the most difficult parts of their lives.
"At Paul Davis, we are Difference Makers because we aren't just repairing a property, we are serving the customer," Koelper says. "And caring for people is what matters most."
Are you a Difference Maker? We'd love you to come and work for us and grow with our company! Visit our jobs page to apply online today and learn more about careers at Paul Davis of Northeast Indiana.