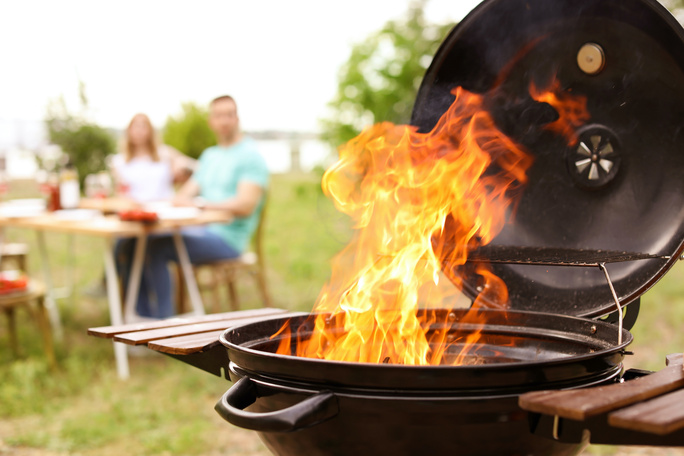 It's no secret that Midwesterners love to grill — and many of us grill year-round! Prime grilling season is upon us, with two-thirds of grill owners cooking out on the Fourth of July and more than half grilling on Memorial Day and Labor Day.
But there's a right way and a wrong way to go about grilling safely, especially if you want to prevent your home from catching fire.
In fact, grills are the cause of an average of 10,600 house fires each year, according to the National Fire Protection Association.
Here's what you need to keep in mind to grill safely this summer and prevent a fire in your home.
KEEP YOUR GRILL AWAY FROM THE HOUSE
Anyone who has grilled knows that flare ups happen. That juicy ribeye will drip some fat onto the burners and up the flames go.
Keep your grill away from your house or any other structures. That includes overhangs, porches, and carports.
"It's important to keep your grill at least 10 feet from any structures," says Rebecca Serratos, the emergency services manager of Paul Davis of Northeast Indiana. "If you don't have it far enough away, an out-of-control fire in a charcoal grill or a leak in a gas grill can very quickly become a catastrophic fire."
GRILL OUTSIDE
If grilling near your house is a bad idea, grilling inside is an even worse one!
Grills, even small ones, are a major fire hazard and should never be used indoors. On top of that, grills also release carbon dioxide as a byproduct. If the gas isn't properly vented outdoors, it can be deadly.
"Don't risk using even a small grill inside your house or in a structure," Serratos says. "Make sure you grill outside, away from your house and away from any sort of combustible material that could start a fire."
CHECK FOR LEAKS
If you're using a gas grill, check your hose and your connections before every use to make sure there are no gas leaks.
"Leaks are among the top causes for a fire from a grill," Serratos says. "It can not only cause a fire, but it can cause personal injury, too."
Fill a spray bottle with a 50/50 blend of soap and water and spritz it on the house and fittings. If you don't have a spray bottle, Serratos also says that you can simply apply the solution with a brush or your hand.
Turn on your gas and look for bubbles that are forming and growing. If you see any, then you have a leak and need to replace your hose, tighten your fittings, or replace your fittings.
CLEAN YOUR GRILL OFTEN
Grease and fat are going to naturally accumulate on the grates and the tray below. If you're not keeping your grill clean it can lead to flare ups (and it can affect the flavor of your food).
Regularly cleaning your grill after each use will help keep down on your overall maintenance and the potential fire hazard.
"Use a stiff brush and clean before you grill and after you grill," Serratos says. "They sell grill brushes, and I recommend picking one of those up because they're made specifically for a grill."
But brushing the grates is just the beginning of what you can do to properly clean your grill. Give your grill a deep clean at least once during the season to prevent grease buildup and keep it operating properly. Serratos also recommends occasionally checking the grease trap in your grill and cleaning it, too.
KEEP AN EXTINGUISHER HANDY
A small flame can become a major fire in less than 30 seconds. In two minutes, a fire can become life threatening, and in five minutes it can fully engulf your home.
If a fire does occur from your grill, the last thing you want to do is to scramble to find your fire extinguisher. Stash a fully-charge extinguisher within fast and easy reach of where you'll be grilling.
"Plan on having a fire extinguisher handy when you're grilling, that way you can put the fire out quickly," Serratos says. "They sell all-purpose fire extinguishers, which can be used on all kinds of fire, so I recommend looking for one like that."
Baking soda can also be used to control minor flare ups from grease. If you're able, remove food from the grates before using baking soda as it is likely to ruin the flavor.
STAY NEAR YOUR GRILL
When you're grilling, stay nearby and never leave the grill unattended.
It's easy to get distracted by the conversation, music, and activities going on if you're grilling at an outdoor party. But it's important to keep in mind that a grill is an open fire, and it should be treated as such.
"If you leave your grill unattended and a fire starts, it can spread very quickly," Serratos says. "Staying near your grill allows you to keep a watchful eye and make sure everything is being done safely."
It's also important in keeping other people safe from the grill too.
Children under 5 account for 39% of all contact burns each year. Keep children and pets away from the grill to prevent them from accidentally touching a hot grill or falling into it and knocking it over.
"Keep kids at least 5 feet away from the grill," Serratos says. "It helps to have someone near the grill who can help watch and make sure there are no children or pets getting too close."
LIGHT YOUR GRILL WITH THE LID OPEN
Lighting your grill with the lid open allows the gases to escape instead of building up under the hood.
If you light your grill and the lid is closed, the sudden rush of oxygen from opening the lid can cause a fireball. It can scorch you and catch nearby items on fire.
"Always keep your lid open when you're lighting your grill," Serratos says. "If you're using a charcoal grill, make sure you're using appropriate lighter fluid for charcoal — that you're not using gasoline or kerosene or another type of accelerant to start it."
If the flame is extinguished while you're trying to light your grill, turn off the gas and wait at least five minutes before trying to relight it.
TRUST PAUL DAVIS FOR FIRE RESTORATION
A fire can happen any time of the year. If your home or other structures on your property do catch fire, the experts at Paul Davis are ready to help you restore your home right away.
"We offer emergency services including board-ups and temporary repairs," Serratos says. "We're full-service, so we can handle mitigation on anything from your structure to your personal belongings."
Early mitigation of fire and smoke damage is key to preventing further damage. That's why the team at Paul Davis are available 24/7. For more information, call us today at 260-436-7510.