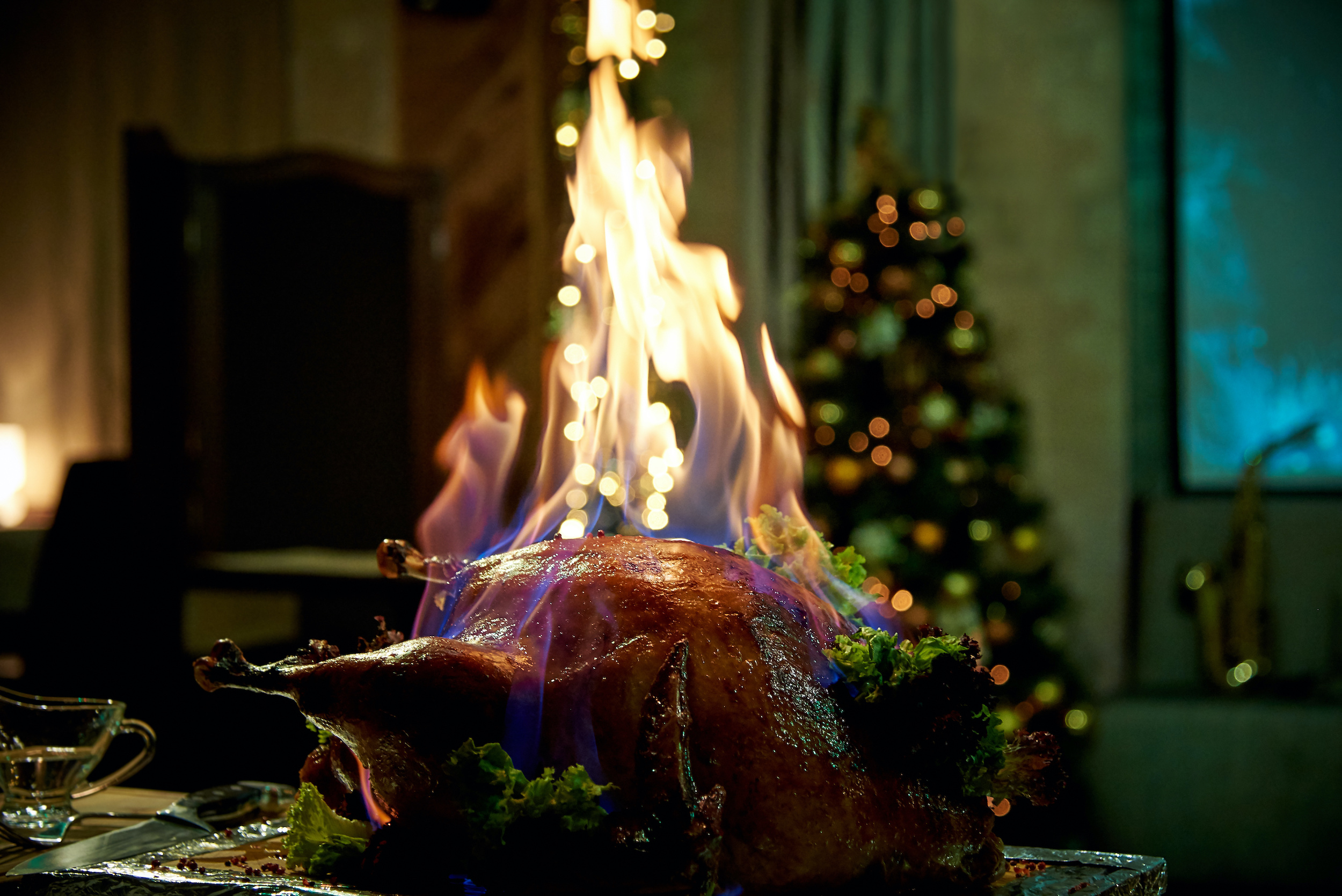 The holidays are a time of year when our kitchens are packed with people and a frenzy of cooking is going on.
In fact, cooking was the cause of 49% of fires in homes from 2015 to 2019. It's the leading cause of all fires in homes and results in an average of 169,400 fires a year.
Unsurprisingly, more home fires tend to happen during the colder months of the year. But the kitchen isn't the only place that's in danger of fire during the holidays. To make sure you have a safe and happy holiday season, let's take a look at some of the common causes of fires during this time of year and what you can do to prevent them.
COOKING
During the holidays, a major part of each event is the feast! Because we're using our kitchens more for cooking and baking, the risk of a fire in our home is increased.
Unattended food is the primary cause of cooking fires. It can become chaotic in the kitchen when you're cooking during the holidays, which means there's a better chance you get distracted while food is on the stove.
Try not to cram all of your cooking into the last minute and cook and bake a day or two ahead if you're able. You don't need to be a superhero and do all the cooking yourself, either! Ask your guests to bring dishes, too, so you don't have to manage too many things at once.
A busy kitchen also means that towels, hot pads, grocery bags, and other flammable objects can be left too close to the open flame of a stove. Pay special attention to your work area and keep it clear of clutter and fire hazards like spilled grease.
Deep frying a turkey is a popular way to cook, but it requires extra care. Don't deep fry your turkey in your garage. In fact, make sure to cook at least 10 feet away from any structures or overhanging objects like trees. If a grease fire starts you need to be prepared to smother it with a lid or similar object. Water will make this type of fire worse.
To be prepared this holiday, make sure you have an all-purpose fire extinguisher handy as well as a lid to smother grease fires when you're cooking. It's a good idea to test all of the smoke detectors in your home prior to holiday cooking, too.
HEATING
The second leading cause of residential fires is related to heating. Let's take a look at two of the more common ways that heating around the holidays can start a fire.
Space Heaters: These devices aren't dangerous by themselves. It's when they're used improperly or inadequately maintained that they can spark a fire.
Space heaters should always be kept at least 3 feet from ANY combustible object. Clothes or furniture left too close to a heater can catch fire and spread quickly.
Inspect your heater for any signs of excess wear like frayed wires or damage that could lead to improper operation of the unit and its safety devices.
Always plug your space heater directly into the wall. Don't use extension cords or power strips to extend the unit's reach. Never leave a space heater unattended — turn your space heater off and unplug it if you're leaving the house or going to sleep.
Fireplaces: There's nothing cozier during the winter than warming up next to the fireplace. But it should go without saying that an open flame in your home is dangerous. Make sure to have your chimney cleaned and inspected annually if you plan to use your fireplace.
Keep flammable objects like blankets, wrapping paper, clothes, and furniture at least 3 feet from your fireplace. While movies and TV shows have taught us that stockings hung by the fire are part of Christmas tradition, it's best to skip this if you have plans to have an actual fire in your fireplace.
Embers and wood logs can roll out and escape your fireplace and start fires. Install a screen in front of your fireplace as a preventative measure. As with any fire that has a fuel source, make sure that the fire is fully extinguished before you head to sleep.
Check that your damper in your fireplace is working properly and that it's open during use. An open damper allows smoke from your fireplace to exit your chimney and prevent the buildup of deadly carbon monoxide. If you're planning on using your fireplace, make sure to test your carbon monoxide detector first.
ELECTRICAL
Electricity has provided us with many great benefits in our daily lives. That makes it easy to forget that it's also potentially dangerous if used improperly.
Fires from electrical-related issues are the third leading cause of home structure fires. But electrical fires account for the majority of property damage claims.
Electrical Safety: The overwhelming majority of electrical fires are because of an electrical failure or malfunction.
Make sure to thoroughly check your wires and your holiday lights before using them. If they are frayed, worn, or have loose connections don't use them, throw them away. These wires can arc or short circuit and start a fire — this is true for interior and exterior lights. Lights get hot, so make sure you've got any lights or lamps far enough away from combustible surfaces to prevent a fire.
It may be tempting to plug in several lengths of lights to reach around your home when decorating. As a rule of thumb, never plug more than three strands into one another. The additional distance and resistance of the lights can create excess heat, which can lead to a fire.
Outlet Safety: Outlets seem intuitive, but that can make us think we can cut corners when plugging things into the wall.
Any appliance — major or minor — should always be plugged directly into the wall outlet. Never plug an appliance into a surge protector or use an extension cord.
Make sure your exterior extension cords are rated for outdoor use. Plugging multiple extension cords together to extend their reach increases the risk of fire. Use only one length of extension cord when possible.
Power strips are an excellent choice when using indoor Christmas lights. Be sure to never overload the circuit with too many lights, though. Multiple power strips should never be plugged into one another.
Always prioritize the safety of you and your loved ones if you have a fire in your home. A small fire can turn into a blaze in less than 30 seconds, and your home can be fully engulfed in 2 minutes. If a fire has become too unwieldy for you to fight, leave your home to avoid getting injured, or worse.
If you have a fire in your home, the professionals at Paul Davis Restoration of Northeast Indiana are ready to help. We're available 24/7 to help you get your home back in order after a fire. For more information, or to speak to a fire restoration expert, call us at 260-436-7510.